My Second Book
Alphabetical Index to Early Wills of Jamaica, West Indies, 1655-1816. PCC Wills, 1655-1816, Registrar General's Office, Spanish Town, 1662-1750. Compiled by Madeleine E. Mitchell.Printed by Kinko's, Pullman, Washington ISBN 0-615-11471-7. pp 176. 2 illustrations.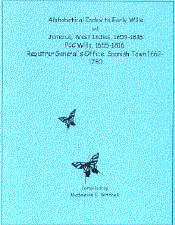 This book is no longer available in hard copy, but you can see this index online at Index to Early Wills of Jamaica online
This Book is a compilation of 7,823 names and sources of wills in the Prerogatory Court of Canterbury (PCC) and in the Add MS 21931 of the British Library which was derived from the papers of Edward Long from wills on record in the Island Secretaries Office. Some of the latter wills may now be missing in the archives in Spanish Town Jamaica, but the PCC Wills are available on microfilm from the LDS (Mormon) Family History Libary. They are also available from Wills on line from the National Archives, Kew, England (formerly the PRO) for £3.50 sterling. This index serves as an early census to names found in Jamaica in the 17th and 18th centuries.
NOTE: This is an Index, the Book does not contain the actual wills.