FAMILY HISTORY OF JAMAICA
WEST INDIES
"OUT OF MANY, ONE PEOPLE"
Yuh deh yah! (You are right here).
Welcome to my Hobby Page. My hobby is FAMILY HISTORY of Jamaica, West Indies (sorry not Jamaica, New York). Maps, sources of genealogy, emblems, my tiny tafel and some fun places to visit are included. I hope this page will be of interest to those who are just getting started on their Jamaican ancestry, as well as those who have pursued this pastime for a while. Madeleine Mitchell's Hobby HomePage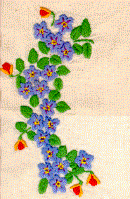 Lignum Vitae or Wood of Life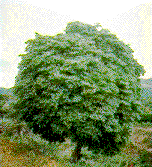 Lignum Vitae Tree
National Flower of Jamaica



Jamaican Genealogy: Source of the Month


Important Dates in Jamaican History


Join the Caribbean List and Jamaica List to contact other researchers


Send your surnames to the West Indian Surname List


Links to other Jamaican Genealogy on the Web



Useful Genealogy Sources on the Web


Some Fun Places to Visit on the Web about Jamaica


My Sister Nora Crook's Work Page. Click on Faculty Profile.


Codes for Jamaican Civil Registration Districts


Since 1996 You are visitor number
Last Updated March 2015. ©Madeleine Mitchell Comments, corrections and contributions welcome. e-mail to: mitchel1-at-bellsouth.net.
The icon used on this page is the lignum vitae flower.

This page was created with HOTDOG PRO and edited with the Coffee Cup, The HTML Editor

Important Dates in the History of Jamaica
NATURAL DISASTERS AND EVENTS IN JAMAICA
Compiled 21 September,1988 by Madeleine E. Mitchell. Amended August 2, 2006
1494 3 May Columbus landed in Jamaica
1655 10 May British Capture Jamaica from Spanish
1662 Oct Population 3,653 Whites, 552 Blacks, total 4,205
1663 Year Jews started settling in Jamaica under British
1664 Jun Four hundred planters came from Barbados
1664 Jul Sir Thomas Modyford came with 200 planters
1670 Year There were 70 Sugar Works in Jamaica
1673 Year Population 7,768 Whites, 9504 Negros, total 17,272
1675 1 Sep 1100 Surinam Settlers Arrived (to St Elizabeth)
1678 Year Jamaica, Rebellion, Caused by prolongation of martial law
1684 Year Jamaica, Rebellion, first serious one
1686 Year Jamaica, Rebellion,sanguinary, at Chapelton, Clarendon
1690 Year Slave Rebellion, Chapelton, Clarendon
1691 Year Jamaica, Rebellion, many White people murdered
1692 7 Jun Earthquake, destroyed Port Royal
1693 Jun Kingston was laid out
1702 Year Jamaica, Rebellion, eastern districts
1704 9 Jan Fire destroyed Port Royal
1711 Jun Hurricane, Westmoreland, Property destroyed
1712 28 Aug Hurricane, All Island
1712 28 Aug Earthquake
1714 29 Aug Hurricane
1717 Year Jamaica, Rebellion, repeated attempts, causing great alarm
1722 28 Aug Free School founded at Walton, St Ann
1722 Year Jamaica, Rebellion, Musquito Indians introduced to quell it
1722 28 Aug Hurricane, All Island and Earthquake
1726 22 Oct Storm
1728 Jun Coffee introduced in Jamaiaca from French West Indies by Sir Nicholas Lawes at Temple Hall, St Andrew.
1729 Year Wolmers Free School Established
1734 Year Jamaica, Rebellion, the Black town Nanny taken
1738 1 Mar Jamaica, Rebellion, under Cudjoe
1738 Year Mannings School, Savanna-La-Mar founded
1739 Year There were 429 Sugar Works in Jamaica
1739 Jun Jamaica, Rebellion, under Quaco, in Trelawney
1740 Year Jamaica, Rebellion, speedily subdued
1744 20 Oct Earthquake & Hurricane, Sav-La-Mar destroyed, Kingston & Port Royal badly damaged
1745 Year Jamaica, conspiracy to assassinate the Whites
1746 Year Slave Insurrection
1751 2 Sep Storm
1754 7 Dec Moravian Mission Founded
1755 Year Kingston became the capitol
1758 Year Spanish Town restored as capitol
1758 Year Jamaica, Rebellion in Trelawney
1760 Easter Mon Jamaica, Rebellion, under Tackey; Port Maria,60 Whites, 400 Blacks killed
1764 Year Population 166,454 (146,454 Slaves)
1765 Year Jamaica, Rebellion,Coromantees the insurgents
1766 Year Jamaica, Rebellion in Westmoreland
1766 Year Hurricane, Western End of the Island
1768 Year There were 651 Sugar Works in Jamaica
1768 Oct Drought to May 1770
1769 Year Jamaica, conspiracy discovered in Kingston
1771 Year Jamaica, conspiracy; assembly of 500 surprised by the militia
1773 2 Oct Hurricane
1775 Year Population 209,617 (12,737 Whites, 4,093 Free Coloured, 192,787 Slaves)
1777 Year Jamaica, Rebellion, followed by thirty executions
1780 3 Oct Hurricane, Sav-La-Mar destroyed, Westemoreland devasted
1781 1 Aug Hurricane, 120 vessels wrecked in Kingston
1782 Year Jamaica, Rebellion, St Mary's under Three-fingered Jack
1784 10 Jul Hurricane
1784 30 Jul Hurricane
1785 27 Aug Hurricane
1785 Year Population 30,000 Whites,10,000 Free coloured, 250,000 Slaves
1786 20 Oct Drought, Hurricane, 15,000 lives lost
1789 19 Jan Dr Thomas Coke Methodist Missionary arrived in Jamaica
1793 Year 2nd Maroon War
1794 Feb Breadfruit brought from Tahiti to Jamaica
1795 Jul Jamaica, Rebellion, Trelawney Maroons
1795 2 Aug Martial Law, Montego Bay destroyed by fire
1796 Year Jamaica, Rebellion, Maroon War; 600 transported to Nova Scotia to Sierra Leone
1798 Year Jamaica, Rebellion,under Cuffee; Trelawney great distruction of rebels
1803 Year Jamaica, conspiracy to murder the Whites discovered
1804 Year Two Hurricanes
1807 Year Population 319,351
1808 27 May Jamaica, Muntiny of Black Troops, 2nd WIR, Fort Augusta
1808 Year Jamaica,conspiracy of a very serious character
1809 Mar Jamaica, conspiracy against the Whites in Kingston
1812 12-4 Oct Hurricane
1812 11 Nov Earthquake
1814 23 Feb Baptist Mission Founded
1815 13 Jul Fire in Port Royal
1815 18-9 Oct Hurricane
1816 Year Methodist Conference started
1818 20 Nov Hurricane
1818 Oct Hurricane
1819 Year Methodists in the Island - 6,540
1822 Year Severe Drought
1824 Year Presbyterian Church Founded
1824 Year Jamaica, insurrection; Portland, St Georges and St Mary
1824 Year Episcopal See Established
1830 Year Hurricane
1831 28 Dec Slave uprising in St James, Trelawney, Hanover, Westmoreland, St Elizabeth, Manchester
1832 Year Jamaica, Rebellion; 200 killed in the field; about 500 executed
1832 7 Aug Hurricane
1834 1 Aug Slavery Abolished
1834 13 Sep First issue of The Daily Gleaner Newspaper
1835 Year John Wilson Davis laid out a Race Track at Drax Hall, St Ann
1838 1 Aug Apprenticeship abolished
1839 Year Drought
1840 Year Drought
1841 Spring Drought
1841 Year Riot in Kingston
1844 Year Census 377,433
1844 5 Oct Hurricane Western Parishes
1845 21 Nov Jamaica Railway established
1845 Year 253 East Indians came to be indentured on sugar estates
1850 Jun Asiatic Cholera epidemic, 32,000 died
1854 Year 472 Chinese came to Jamaica from Panama
1865 11 Oct Morant Bay Rebellion
1871 Year Population 506,154
1874 Nov Hurricane
1879 8 Oct Hurricane
1880 18-9 Aug Hurricane, Damaged Kingston
1881 Year Population 580,804
1882 11 Dec Fire, Kingston
1887 Year Outbreak of Small Pox to 1888
1889 Year Population 639,491
1903 11 Aug Hurricane, North Eastern, Jamaica
1907 14 Jan Earthquake, Destroyed Kingston/Port Royal, Loss 2.0 million pounds
1912 17-8Nov Hurricane, Western Parishes
1915 12-13 Aug Hurricane
1915 25-6 Sep Storm
1916 15 Aug Hurricane, All Jamaica
1916 16 Aug Hurricane, All Jamaica
1917 May Women won the right to vote
1917 23 Sep Hurricane
1933 14 Aug Flood in Kingston/St Andrew
1933 15 Aug Flood in Kingston/St Andrew
1939 1 Apr Telephone connected in Jamaica
1944 20 Aug Disastrous Hurricane
1951 17 Aug Hurricane Charlie, Kingston/Port Royal/Morant Bay damaged
1957 1 Mar Earthquake, 8 on Richter Scale, epicenter Hanover, StJames
1962 6 Aug Independence from Britain
1963 5 Oct Hurricane Flora
1963 6 Oct Hurricane Flora
1963 7 Oct Hurricane Flora
1988 12 Sep Hurricane Gilbert, winds 120 mph, entire South Coast, 80% Houses damaged or destroyed
1994 12 Nov Hurricane Gordon
2001 6-8 Oct Hurricane Iris
2002 27 Sep Hurricane Lili
2004 11 Aug Hurricane Charley
2004 11 Sep Hurricane Ivan
2006 25 Feb First woman Prime Minister elected Hon. Portia Simpson Miller




Return to Index,Home Page. If you entered through the Worldgen web Page, use the 'Back' function of your browser.

Join the West Indies Newsgroup, Caribbean List and Jamaican List to contact other researchers
Through the hard work of Sally Jones, Kent, England, Vaughn Royal of Alexandria, VA and others, there is a newsgroup for the West Indies: soc.genealogy.west-indies which includes Jamaica and 30+ West Indian islands and countries. If your internet provider carries "newsgroups" you will be able to access this group. If not, it doesn't do any harm to ask the provider to add the newsgroup.
Added in January 1997 The Newsgroup soc.genealogy.west-indies has been archived and is available for searching on the Web. click here.
This newsgroup is now linked with the Caribbean-List, an e-mail list which comes in Digest form or single message form. To subscribe to the Caribbean List, e-mail to CARIBBEAN-L-request@rootsweb.com. Put nothing in the subject line and turn off your signature and other automatic additions, write only 'subscribe', (without quotes), in the body or text area of your message. Currently messages are running 0-4 messages per day, so if you want to receive the output as a digest (ONE long message), address your request to CARIBBEAN-D-request@rootsweb.com
Added in 2003
Jamaica now has a list of its own. To subscribe to the JAMAICA List, e-mail to JAMAICA-L-request@rootsweb.com. Put nothing in the subject line and turn off your signature and other automatic additions, write only 'subscribe' (no Quotes) in the body or text area of your message. Currently messages are running 0-2 messages per day, so if you want to receive the output as a digest (ONE long message), address your request to JAMAICA-D-request@rootsweb.com
The Caribbean List and Jamaica List are also archived at Rootsweb
When the vote was taken, the following was included as the description of the newsgroup:
RATIONALE: soc.genealogy.west-indies
There is an established precedence and interest in the study of West Indian ancestored genealogy on the Internet, as well-evidenced by the discussions and queries concerning this topic that regularly appear in cluster groups on commercial online networks, bulletin boards, and in limited discussions in various newsgroups in the "soc." and "alt." hierarchy. However, the discussions and queries tend to be scattered among numerous electronic forums, and researchers are unsure where to post questions and comments concerning the West Indies to reach others who share their interest, often posting in several different places as a result. Presently, there is no place of concentration where such people can register their queries and remarks, and be assured that they will be read by the many who are interested world-wide, rather than by the few who may by chance encounter West Indian genealogical postings in electronic forums which are focused on other parts of the world. The number of nations whose sons and daughters added to the population of the West Indies is extremely numerous: former colonial powers including England, France, Spain and The Netherlands; as well as dozens of countries in Europe, Africa, the Americas and Asia. Soc.genealogy.west-indies has the potential to serve as the gathering point for researchers interested in the approximately 30 countries which today comprise the West Indies, and to provide a forum for people to share queries and insights regarding the genealogy of the West Indies.
A FAQ on this topic is planned and a Surname Interest List has been set up. Sally Jones has posted to the newsgroups several pages of source information. They can be retrieved in the archived newsgroup click here.
CHARTER: soc.genealogy.west-indies
The focus of soc.genealogy.west-indies is on exchanging information on the genealogy and family history of West Indian ancestored people world-wide. This group is designed to focus on West Indian genealogy, but since the colonisation of many of the West Indian islands had a social and financial impact on the colonising nations, discussion may widen to reflect this aspect.
Discussion is open to anyone with an interest in West Indian genealogy including, but not limited to: people who do live, did live, or may have lived in any of the West Indian Islands; colonists; voluntary immigrants; involuntary immigrants (such as slaves); emigrants and their descendants. Researchers wishing to trace their slave ancestors prior to their arrival in the West Indies will find that soc.genealogy.african is more suited to their postings.
The scope of the group reflects the varied ancestral backgrounds of the inhabitants of the West Indies - often referred to as a "melting pot". The cultural and language differences of the islands, often reflecting their heritage can prove a problem to researchers. The difficulties of researching public records in a part of the world where earthquakes, fire, hurricanes and pests have destroyed many records can be very daunting, but genealogical archives around the world do contain records which will help to build up vivid accounts of the lives of West Indian ancestors. The disseminated nature of the historical and genealogical information requires a high level of mutual co-operation from researchers around the world.
Posts may be in any language, but those seeking replies from a wide spectrum of readers would be well-advised to also post in English.
Postings on offensive or defamatory themes, and any other topics unrelated to genealogy are not welcome.
The additional gateways for this newsgroup have yet to be created. In this instance, the newsgroup will precede the Fidonet and traditional mailserver avenues.
END CHARTER.
Used with permission of Sally Jones, 1996.
The icon used on this page is an Alamanda flower.


Send your surname list to the West Indian/Caribbean Surname Lists

You can make contact with other researchers who are interested in your surname families through the West Indian Surname Lists. This list was started and was maintained by Vaughn Royal up to 1998. Because Vaughn Royal unfortunately was not able to continue with the West Indian Surname list, a new list was started by Jim Lynch in 1999. It is:

Jim Lynch's Caribbean Surname Index
In addition you can put a query about your surnames on the Query page of the WorldGenWeb Jamaica page:Queries. Queries are also archived on Rootsweb.
The icon used on this page is the hibiscus flower.


My TinyTafel and About Me

My Tiny Tafel was generated on Roots IV and shows my maternal and paternal lines in 1995
N Madeleine Mitchell
A Dunnellon, FL 34432
B Roots-L, JewGen, Jamaica-L, Caribbean-L
F ROOTS IV version 1.1
Z 43 MITCHELL version 47
A623 1793*1910 Arscott,Levy\Newton Abbot, Devon, England
B460 1720*1913 Buller,Mitchell\Somerset, England
C140 1665*1913 Chappell,Mitchell\Somerset,England
C150 1800*1910 Coveney,Levy\Trelawney, Jamaica
C160 1800*1910 Cover,Levy\Somerset, England
C200 1563*1910 Coxe,Levy\Warwickshire,England
C261 1570*1910 Cockcroft,Levy\Wadsworth, Heptenstall,York
C514 1790*1913 Campbell,Mitchell\England or Scotland
C613 1744*1913 Crofts,Mitchell\London,England
C652 1490*1910 Carrington,Levy\Warwickshire, England
D263 1762*1910 Dussard,Levy\Haiti and France
F500 1759*1913 Fone,Mitchell\Bridge St, Bristol,England
G416 1550*1910 Gellibrand,Levy\Lancashire, England
G612 1680*1910 Graves,Levy\England,Westmoreland, or St Elizabeth,Jamaica
G613 1830*1913 Griffiths,Mitchell\Bristol,Gloucester, England
H200 1744*1913 Hesse,Mitchell\London, England
H400 1800*1910 Hall,Levy\England
H420 1687*1913 Hillsy,Mitchell\Somerset, England
H610 1600*1910 Harby,Levy\Northamptonshire,England
H652 1470*1910 Herringe,Levy\Allesley, Warwickshire, England
I220 1800*1910 Isaacs,Levy\Kingston, Jamaica
L100 1768*1910 Levi,Levy\London, England/Brown's Town, St Ann, Jamaica
L532 1823*1910 Lindsay,Levy\Jamaica
M324 1720*1913 Mitchell,Gloucester or Warwick,England/St Kitts, West Indies
M600 1750*1913 Moore,Mitchell\Cirencester, Gloucester, England
M600 1790*1913 Murray,Mitchell\Kirkcudbright, Scotland
M620 1630*1910 Morris,Levy\England
N140 1500*1910 Nevill,Levy\England
O251 1400*1910 Oxenebridge,Levy\Kent, England
P265 1472*1910 Pickering,Levy\Warwickshire, England
Q516 1734*1910 Queneborough,Levy\Bedfordshire,England
R240 1718*1913 Russell,Mitchell\Somerset, England
R300 1780*1913 Rutty,Mitchell\London, England
S655 1800*1913 Sherman,Mitchell\England or, Jamaica
T453 1500*1910 Tallente,Levy\Warwickshire, England
T625 1500*1910 Throckmorton,Levy\Warwickshire, England
W200 1759*1913 Weeks,Mitchell\Long Ashton, Somerset, England
W362 1740*1913 Waterhouse,Mitchell\London,England
W410 1712*1910 Woulfe,Levy\Vere, Jamaica
W532 1720*1913 Windsor,Mitchell\London, England
W623 1760*1910 Wright,Levy\Bedfordshire,England
3 JUN 1995 an ancestor Tiny Tafel, 1910 = Maternal line, 1913 = Paternal line


About Me
I was born in Brown's Town, St Ann, Jamaica to K. and C.(nee Levy) Mitchell in 1941. We lived in Reading, St James, Grove Place, Manchester as well as Brown's Town before moving to Half-Way-Tree, Kingston 10 in 1952. My father worked for the Ministry of Agriculture and the first two residences were Agricultural Experiment Stations where he was assigned. I attended St Hilda's Diocesan High School in Brown's Town and St Andrew High School for Girls at Half-Way Tree.

After Cambridge School certificate I went to MacDonald College of McGill University, Montreal, Quebec. This is where my interest in family history started when I had to write a paper on the family in a Sociology class. I went on to do my graduate work in Nutrition at Cornell University in Ithaca, New York. And then I went to Pullman, Washington where I was located from 1969 to 2004, except for two sabbatical leaves, one spent in Washington, DC and the other in Boston, MA.
I have an older sister and a younger sister and 4 nephews and 1 niece. My mother lived in Cambridge, England near my eldest sister, the author, Nora Crook, and my younger sister, the nurse, Janet Watson lives in the Boston area. Thank goodness for e-mail, telephones and faxes! My father passed away in England in 1993. My mother came to live with me in Dunnellon, Florida in 2004 and passed away at my home in 2006. Enough of that!
My major family lines come from England, Scotland, Africa and Jewish (London). As well I have some extensions into France (via Haiti) and Ireland. At one time I thought there was a German line, but now I am not so sure. So out of many, one people.
The icon used on this page is the poinciana flower.